Danobatgroup maintains its commitment to talent in 2023
January 04, 2023
The industrial group will be present at the Master Recruting Day and Job Fair organised by Tecnun - University of Navarra (UNAV) in February and March, respectively
Danobatgroup will also attend the talent events organized by the University of the Basque Country (UPV-EHU) during February at its Gipuzkoa and Bizkaia sites
The presence of the business group at the events is part of its commitment to attracting talent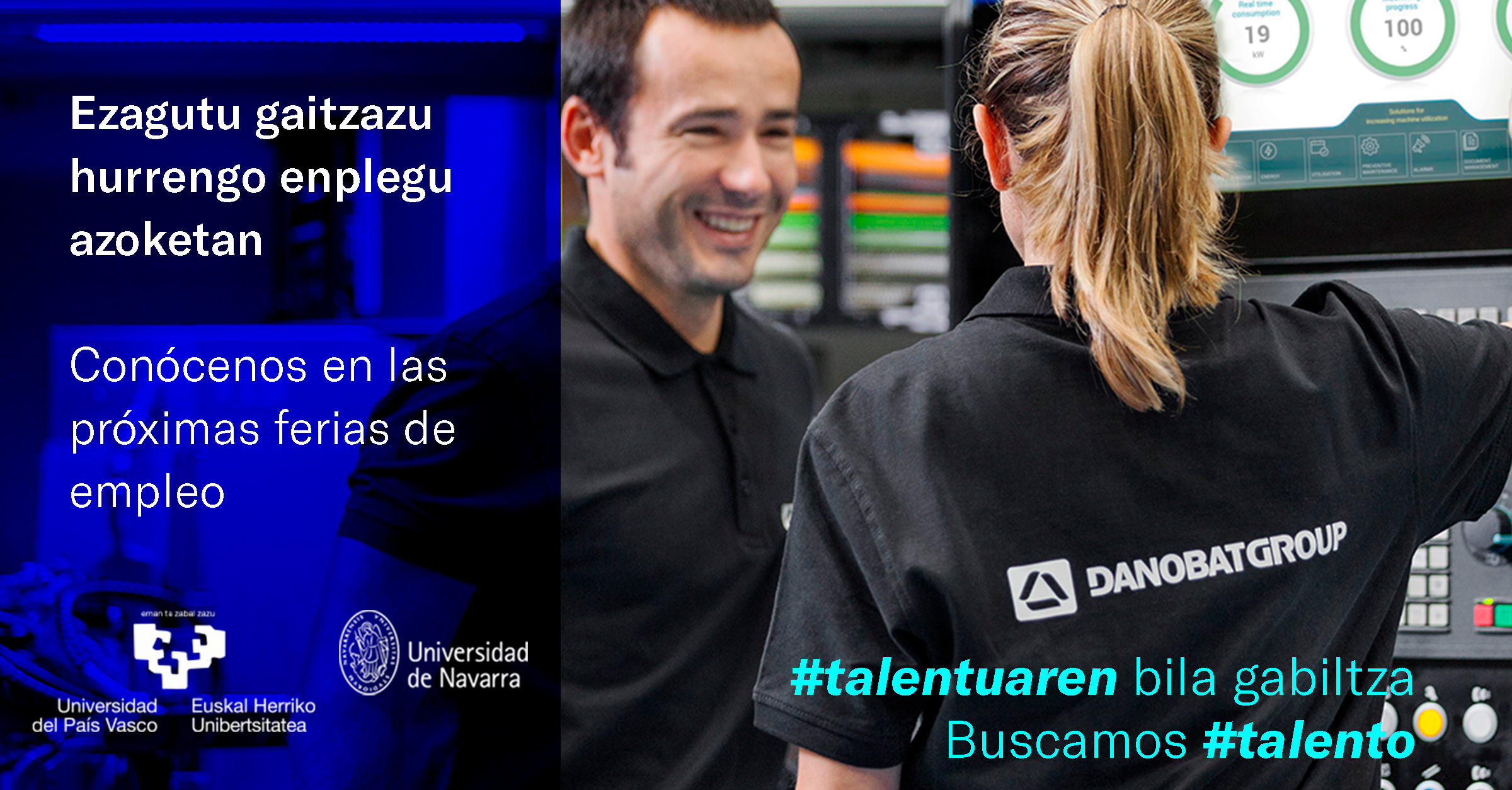 Danobatgroup will maintain an intense activity during the first quarter of 2023 by actively participating in employment forums organized by several universities. This commitment to attracting talent is largely due to the fact that the industrial manufacturing sector is undergoing far-reaching changes as a result of the irruption of new technologies. A transformation that requires new professional profiles capable of meeting the challenges, mainly those arising from the digitization of production processes. In this context, Danobatgroup seeks to promote relations with young people finishing their studies. A natural step that is part of its commitment to people and talent.
On the one hand, in February and March the industrial group will participate in two initiatives organized by the Tecnun - UNAV School of Engineering. The first of these, the Master Recruiting Day aimed at engineering master students, will take place on February 7, with Danobatgroup being present at the event to be held at the campus headquarters in Donostia (Basque Country). The second event of this University will take place on March 8 and 9 at the Job Fair, also in Donostia.
On the other hand, Danobatgroup will participate on February 15 in the Company Day, an event to be held at the Gipuzkoa School of Engineering of the UPV/EHU, and on February 16 it will attend the JEPE 2023 Employment and company presentation day, organized by the Bilbao School of Engineering, also of the UPV-EHU, at the San Mamés stadium in Bilbao (Basque Country).
During these events, attendees will have the opportunity to interact with the Danobatgroup team and learn about the Group´s value proposition, the evolution that the industrial manufacturing sector is experiencing with digital technologies, as well as the type of profiles that different companies of the industrial group such as Danobat, Soraluce, Goimek and Latz need to incorporate to face the revolution of the smart factories of the future.
In addition, anyone interested in finding out about the various professional development opportunities currently offered by the Group prior to the fair can also visit the Group´s website.
About Danobatgroup
With a track record of 65 years in the field of technologies applied to industrial manufacturing, Danobatgroup has a workforce made up of more than 1,400 highly qualified people. The group is an international benchmark in the machine-tool sector and technologies applied to industrial manufacturing.