Danobat acquires the Dutch firm Hembrug Machine Tools to strengthen its position in the field of finish hard turning
September 16, 2019
Today, machine tool manufacturers Danobat and Hembrug, leader in finish hard turning, have announced the acquisition at EMO Hanover (Germany)
The operation represents a step forward in the sectoral diversification and internationalisation strategy of the Danobatgroup, an industrial group to which Danobat belongs
The sum of the two companies, which combine their grinding and hard turning expertise, provides the machine tool market with a new cutting-edge offer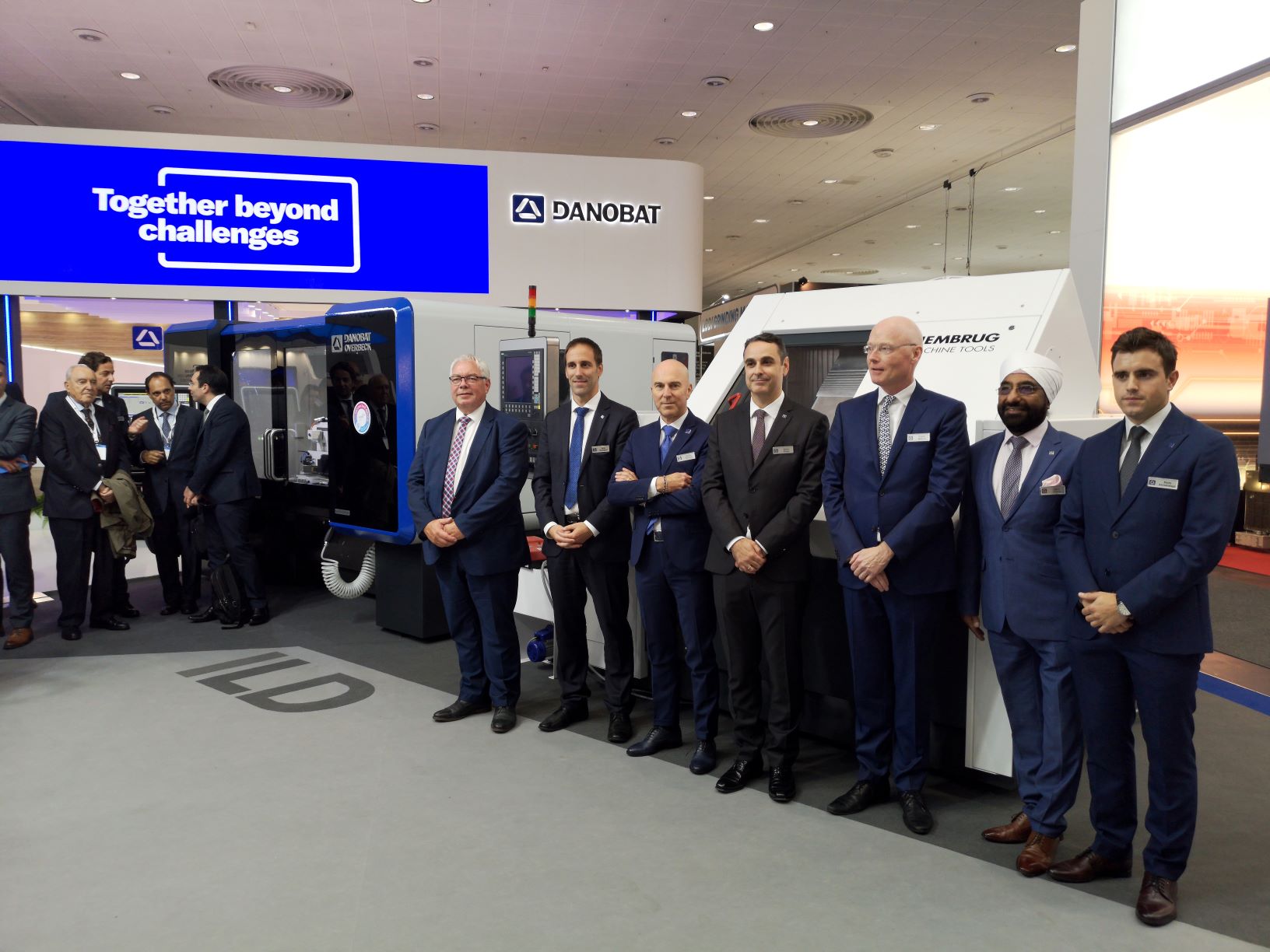 Today, machine tool manufacturers Danobat and Hembrug, leader in finish hard turning, have announced the acquisition at EMO Hanover (Germany)
The operation represents a step forward in the sectoral diversification and internationalisation strategy of the Danobatgroup, an industrial group to which Danobat belongs
The sum of the two companies, which combine their grinding and hard turning expertise, provides the machine tool market with a new cutting-edge offer

Hanover, 16th September 2019. The machine tool and production systems manufacturer Danobat announced the acquisition of the Dutch company Hembrug Machine Tools, leader in precision hard turning technology. The purchase agreement was announced this afternoon in Hanover (Germany) at the EMO, the leading European machine tool fair.
Hembrug has a strong presence in Europe and an extended network in North America and Asia. In 2018 it had a turnover in excess of 14 million euros. Danobat is the market leader in machine tool manufacturing of grinding machines, with an annual turnover of 130 million euros.
The acquisition gives Danobat's customers a better and wider choice between the two complementary technologies grinding and hard turning.
Hembrug customers will benefit from the extended service network of Danobat, a service engineer in the United States is already been trained. Furthermore Danobat's excellent grinding expertise will be of use in Hembrug's new hybrid hard turning/grinding machines. Hembrug will also make use of Danobat's automation solutions and Industry 4.0 offerings.
A step forward
To show off this new alliance, as of today, Danobat is exhibiting one of Hembrug´s most representative machines, the Mikroturn 100LS, on its stand at EMO. It is an example of the state-of-the-art technology that the Dutch firm offers in precision hard turning. It joins the other seven latest generation and high technological value machines that Danobat is showcasing at the fair.
The CEO of Danobat, Xabier Alzaga, highlights the relevance of "incorporating the high prestige brand Hembrug". "We are experts in the generation of innovative technological and high added value solutions. Our mission is to offer a response adapted to the requirements of our clients, based on our in-depth knowledge of the industrial manufacturing technologies. As of now, our catalogue is extended with first rate, cutting-edge, precision hard turning solutions, complementing our current range of grinding, turning and measurement solutions", he points out.
The CEO of Hembrug, Robert Nefkens will remain at the helm of the company. He highlights that "accessing Danobat's global platform" and the competitive advantage of "joining the two complementary technologies grinding and precision hard turning is a big step forward". "This can be highly beneficial for our customers", he says.
The heads of both companies revealed the agreement this afternoon at the EMO Fair in Hanover.
About Danobat
Danobat is the market leader in machine tool manufacturing of grinding machines geared towards solving the problems of each client with customised solutions.
It has an annual turnover of 130 million euros, is strongly internationalised and has production plants in Germany, Spain and the United Kingdom and centres of excellence in these countries as well as Italy, the USA and China.
It forms part of the Danobatgroup, an industrial group that employs 1,300 people and is part of the Mondragon Corporation
About Hembrug
Hembrug Machine Tools designs, builds and sells high precision hard turning machines and hybrid machines with hard turning and grinding capacity. With its headquarters in Haarlem (The Netherlands), the company has manufactured ultra precision turning machines with in-house hydrostatic technology since 1969. It is a healthy profitable company and in 2018 it had a turnover in excess of 14 million euros. Hembrug employs more than 60 people and is present in the bearing industry, mould & die sector, but also the precision industry. It has since long a strong presence in Europe, and has in the last decade extended its network in North America and several Asian countries.
Advisors
DANOBAT has been advised by NORGESTION (financial) and DeBreij (legal). Deloitte has carried out the Due Diligence process.
HEMBRUG has been advised by Rembrandt (financial) and Baker & McKenzie (legal).