Danobatgroup reaffirms its commitment to talent with its participation in two job fairs
February 22, 2021
The industrial group will be present at the 4th Virtual Job Fair of the Escuela Universitaria de Ingeniería Dual (University College of Dual Engineering) of the IMH from 22 to 24 February.
It will also be at the Virtual Career Forum organised by Tecnun-UNAV on 4 and 5 March
The presence of the business group at both events is part of its commitment to the talent recruitment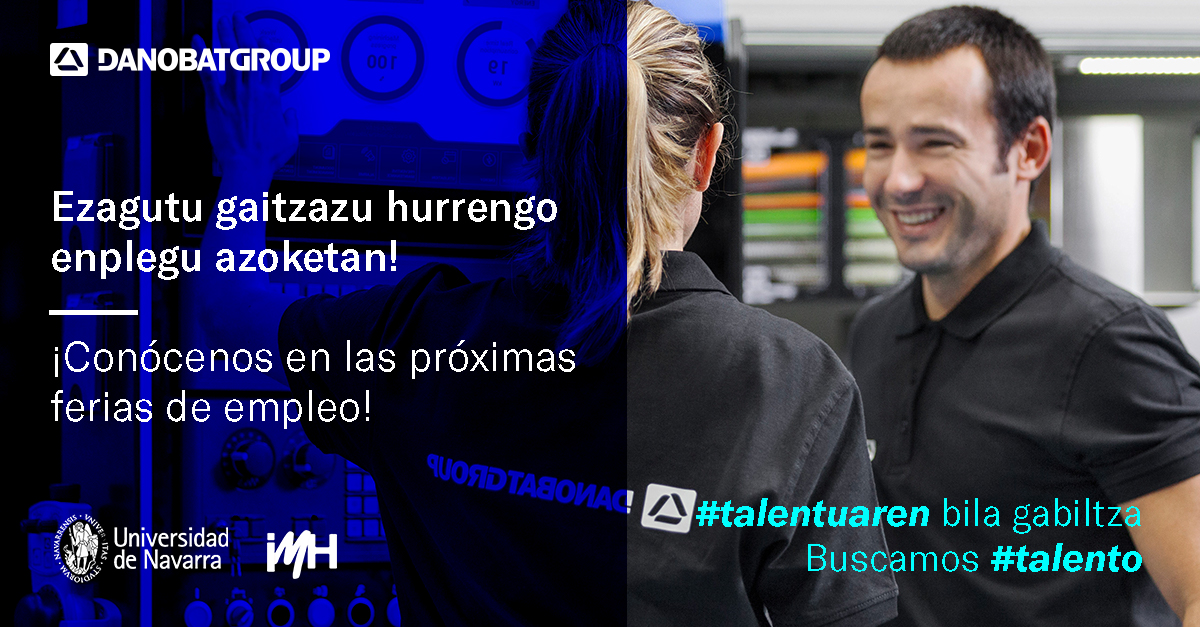 The industrial group will be present at the 4th Virtual Job Fair of the Escuela Universitaria de Ingeniería Dual (University College of Dual Engineering) of the IMH from 22 to 24 February.
It will also be at the Virtual Career Forum organised by Tecnun-UNAV on 4 and 5 March
The presence of the business group at both events is part of its commitment to the talent recruitment

The changes that the industrial manufacturing sector is experiencing require new professionals with broad scientific and technological knowledge, who are capable of addressing the challenges presented by digitalisation and the transformation of production environments. In this context, it is necessary to strengthen the relationship between companies and the young people who finish their studies.
With the aim of reinforcing its firm strategic commitment to the development of human capital, the industrial group Danobatgroup will soon be participating in two virtual job fairs: the 4th Virtual Job Fair of the University College of Dual Engineering of the IMH, from Monday 22 to Wednesday 24 February and the Virtual Career Forum, organised by Tecnun and the University of Navarra on Thursday 4 and Friday 5 of March.
First, Danobatgroup will go to the event organised by the University College of Dual Engineering of the IMH. On the first day, a presentation of the work carried out by the cooperative is given: specialisation in the manufacture of machine tools and technologically advanced production systems. On the second day, some Dual Engineering students in Process and Product Innovation from the education centre will have the opportunity to interact with the Danobatgroup team. Furthermore, they can find out at first hand about the work opportunities of the various companies in the industrial group, such as Danobat, Soraluce, Goiti, Goimek and Latz, as well as the Research Centre Ideko.
For its part, at the beginning of March, Danobatgroup will be part of the Virtual Career Forum, the job forum organised by the Tecnun Engineering College and the University of Navarra, which will serve as a meeting point between companies, recent graduates and students in search of work placement, end of degree and masters projects or a first job.
The participation of the industrial group at these job fairs is part of the group´s strategy to attract and develop talent. As Iker Usabiaga, director of Danobatgroup´s Social Management explained: "Our commitment to people is embodied in a strategic talent management model whose main axis is to place our professionals at the center, so that they are the ones who empower themselves and lead their own career within the group".
About Danobatgroup
With a track record of 65 years in the field of technologies applied to industrial manufacturing, DANOBATGROUP has a workforce made up of more than 1300 highly qualified people. The group is an international benchmark in the machine-tool sector and technologies applied to industrial manufacturing.