Danobatgroup takes part in the BIND 4.0 initiative for the fourth consecutive year
July 29, 2019
The group firmly commits to technological innovation once again within the framework of the company acceleration program of the Basque Government.
The fourth edition of this platform recently made the call to start-ups that want to develop projects with large Basque companies
The start-up companies can register on the programme up to 13 September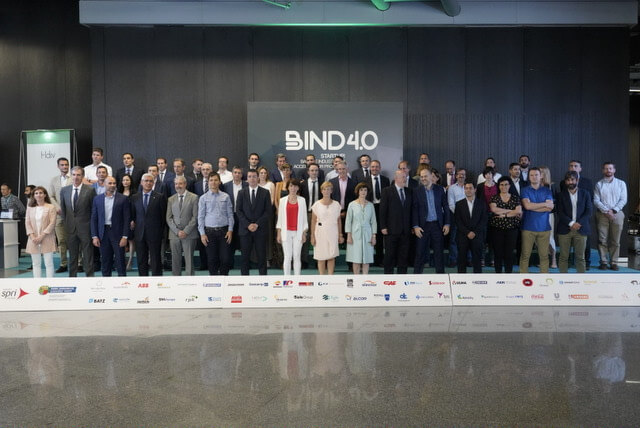 The group firmly commits to technological innovation once again within the framework of the company acceleration program of the Basque Government.
The fourth edition of this platform recently made the call to start-ups that want to develop projects with large Basque companies
The start-up companies can register on the programme up to 13 September
Elgoibar, 29 July 2019.- With the aim of continuing to make progress in the field of industrial digitalisation and address the technical challenges of the sector, the business group Danobatgroup will participate for the fourth consecutive year in the BIND 4.0 initiative, a platform aimed at developing smart industry in the Basque country, which will be held this year for the fourth time.
The call was made this month of July and registration for start-ups will be open until 13 September. Once the call is closed and the collaborations between start-ups and companies are assigned, a total of 52 large Basque companies will work together with start-ups from throughout the world to provide new technological solutions.
"Technological innovation and collaboration between entities is key to continuing to make progress and to be at the cutting edge, therefore we have committed ourselves to participating on this platform from the start. The projects that we have carried out until now within the framework of this initiative have been very satisfactory, thus we believe that this time we will be working on an interesting proposal again", said Elena Urkia, who is responsible for the Bind 4.0 project at Danobatgroup.
This smart industry project accelerator has established itself as a benchmark open innovation platform in the field of Industry 4.0 after tripling its numbers in just three events. This year it will be attended by a total of 52 driver companies, while last year there were 40. Furthermore, for the first time, in addition to the Advanced Manufacturing, Energy and Health areas, the food sector has also been included in the call for start-ups.
Real projects with large companies
The BIND 4.0 programme, promoted by the Basque Government and the SPRI Group was started in 2016 as a meeting point for innovative start-ups and large consolidated companies in the Basque country. The programme provides an opportunity to drive digital transformation of Basque industry. Likewise, it allows the establishment of innovative initiatives to be accelerated through real projects with reference customers.
"The interest of the large Basque companies in the start-ups is complemented with the support that we will provide in terms of invoicing, access to the market through prestigious customers, as well as the possibilities of investment and financing in the initial stage of their development. In this way, we will combine two objectives: the acceleration of start-up business projects and the drive towards digital transformation of consolidated companies", explained the organisers of the initiative.
The start-ups interested in collaborating with Basque companies in this new BIND 4.0 event can consult all the information relating to the call on the bind40.com website.