CASE STUDY: DANOBAT solves MAN DIESEL´s problem for grinding different ship engine turbo compressors
November 26, 2013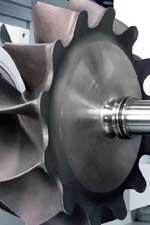 MAN Diesel & Turbo is one of the world market leader for large diesel engines for use in ships and one of the leading suppliers of diesel power stations and turbo machines. The company operates more than 100 international locations and the range of products and services that they offer includes complete marine drive systems, turbo-machinery trains for both the oil and gas industries and process engineering, as well as turnkey power plants. The client approached DANOBAT looking for a complete solution for grinding different ship engine turbine wheels for each model of ship. These are parts of between 183 mm-420 mm in diameter and 320-720 mm in length with blades made of Inconel. The process up to then consisted of using two machines: one for grinding the different diameters and faces of the shaft and the other for machining the blades, which required a different grinding wheel for each piece. To find a solution for grinding this set of parts, DANOBAT presented the horizontal grinding machine model HG-92-2000-B6 with different systems in order to optimise the process to the maximum, so all machining operations could be performed on one single machine set-up. Among the most important features of this machine model are the following:
Double wheel head assembled on a B axis. One set up, one inished part.
New design of grinding wheel and contouring process. Grinding wheel designed by DANOBAT for grinding the different diameters of the blades using a contouring process, thus cancelling the need for different grinding wheels for each part model.
Both spindles assembled on hydrostatic bearings. Maximum rigidity and maximum vibration damping capacity.
Motorised tailstock with automatic programmable positioning and blocking. Part changing has a negligible inluence on the set-up time.
Continuous dressing system, dressing the wheel during grinding, resulting in a significant increase of productivity.
Several measuring systems
Software DAN-OP. A powerful technological development allowing very friendly conversational programming and powerful calculations.
The standard HG-92 easily achieves the precision requirements for this project because of its construction and the gauging systems. However, the desired working methods demand for specific solutions:
MDM absolute contact measuring system designed and manufactured by DANOBAT, suitable to measure in-process all and each diameter to be ground. At the end of the grinding cycle, in automatic mode and by program, all diameters, its geometry, and faces can be measured and a Test Report can be issued.
Touch probe showing the part clamped between centres with axial references.
Blade measuring non contact system by laser allowing to measure the different shapes of the blades, hence avoiding the use of measuring standards used previously for each type of blade.
DANOBAT was able to offer a complete solution on one single machine for grinding different ship engine turbo compressors, providing a great precision , which made MAN Diesel & Turbo opt for this technology and entrust DANOBAT with this and future projects.