Danobat-Overbeck develops a flexible high-precision grinding machine for Hyperion Materials & Technologies
March 30, 2020
Danobat-Overbeck, manufacturer of grinding solutions and advanced industrial production systems, has developed an internal, external and radius grinding machine for Hyperion Materials & Technologies, a firm specialised in the manufacture of tools in hard and super-hard materials.
The machine includes a range of innovative features. It has been developed in collaboration with the multinational and will be used to produce tooling for manufacturing beverage cans. These parts require high precision and need to be highly resistant to mechanical wear.
The Challenge
The process of manufacturing 2-pieces aluminium beverage cans by Draw and Wall Ironing (DWI) uses a range of dies of varying characteristics. The ironing process requires punches and rings that draw and iron a cup to form the can body.
Producing these dies is a demanding and technologically complex process; they are made from metals that are difficult to grind, such as tungsten carbide, which is as hard as corundum, twice as dense as steel and can only be polished using abrasives such as boron nitride and diamond paste.
The manufactured dies also need to be capable of meeting micrometric geometric and dimensional tolerance rates, with blemish-free finishes.
The rings and punches are subjected to considerable mechanical wear, due to the high friction during the production process, so maintenance is another critical consideration.
Manufacturer Hyperion Materials & Technologies therefore required a grinding machine that would be sturdy enough to handle roughing of very hard parts, but at the same time precise enough to ensure micrometric tolerances.
It also needed a flexible, customised solution, capable of meeting intense production levels.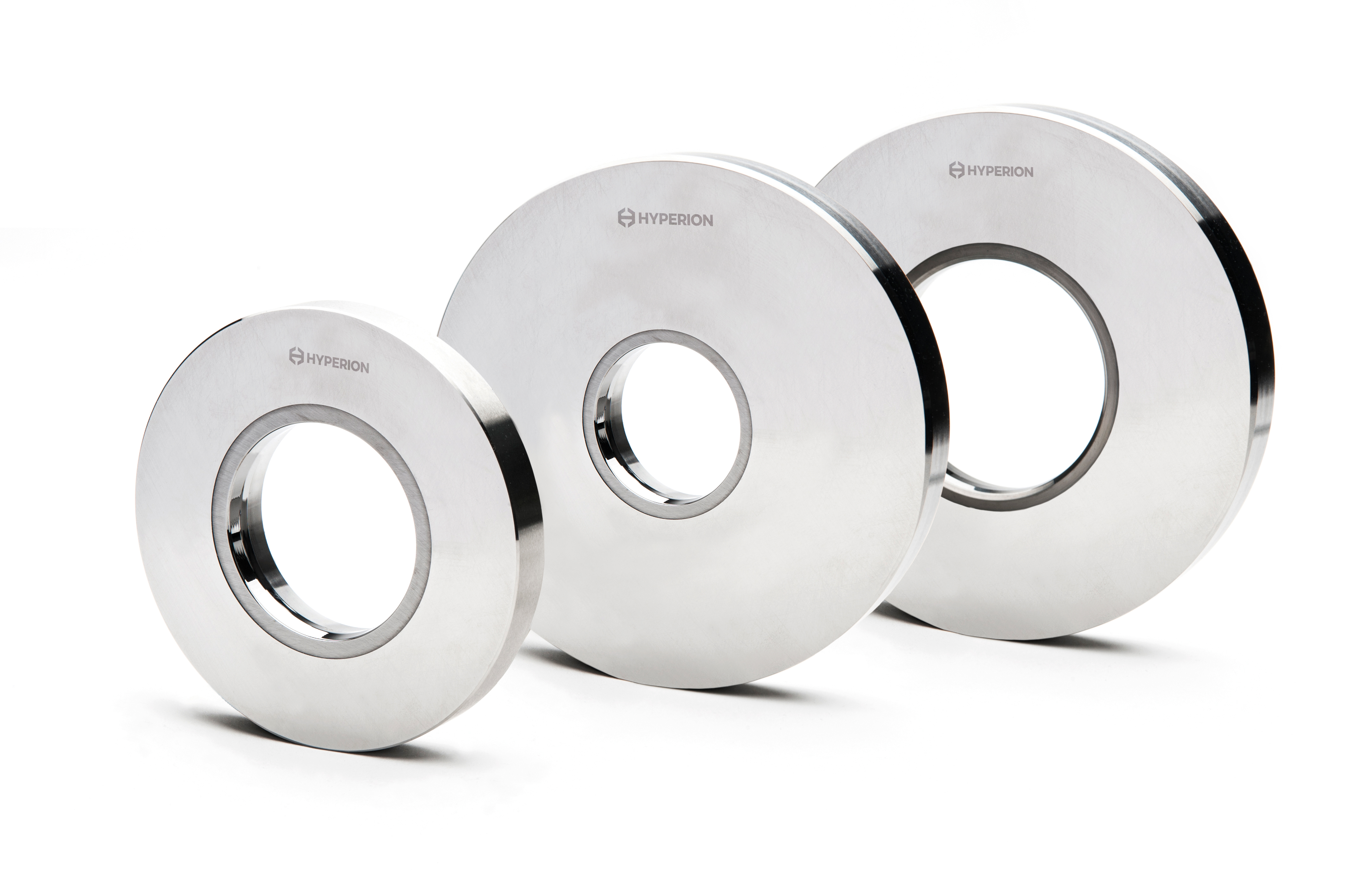 The solution
To meet the challenge, Danobat-Overbeck developed a state-of-the-art turnkey solution that would ensure robustness and result quality.
The machine is supported on a granite base, making the entire assembly very stable and ensuring greater absorption of the vibrations generated during the production process, thus preventing marks and blemishes on the dies.
The machine layout and its high degree of rigidity, combined with the use of appropriate processes and optimal parameters, eliminates problems with chatter.
The X and Z axis of the machine are driven by linear motors, while the axes of the workhead and spindle turret are driven by direct motors. This ensures result repeatability and reduced maintenance, since there is no mechanical wear.
As for precision, efficiency has been enhanced through interpolation of the B0 axis, with a direct torque motor offering zero mechanical wear, and incorporation of a Danobat-developed workhead and software, critical components for ensuring the required tolerances.
The solution also offers great flexibility for changing references quickly and simply, with high levels of productivity and reduced cycle time when manufacturing parts in hard metal.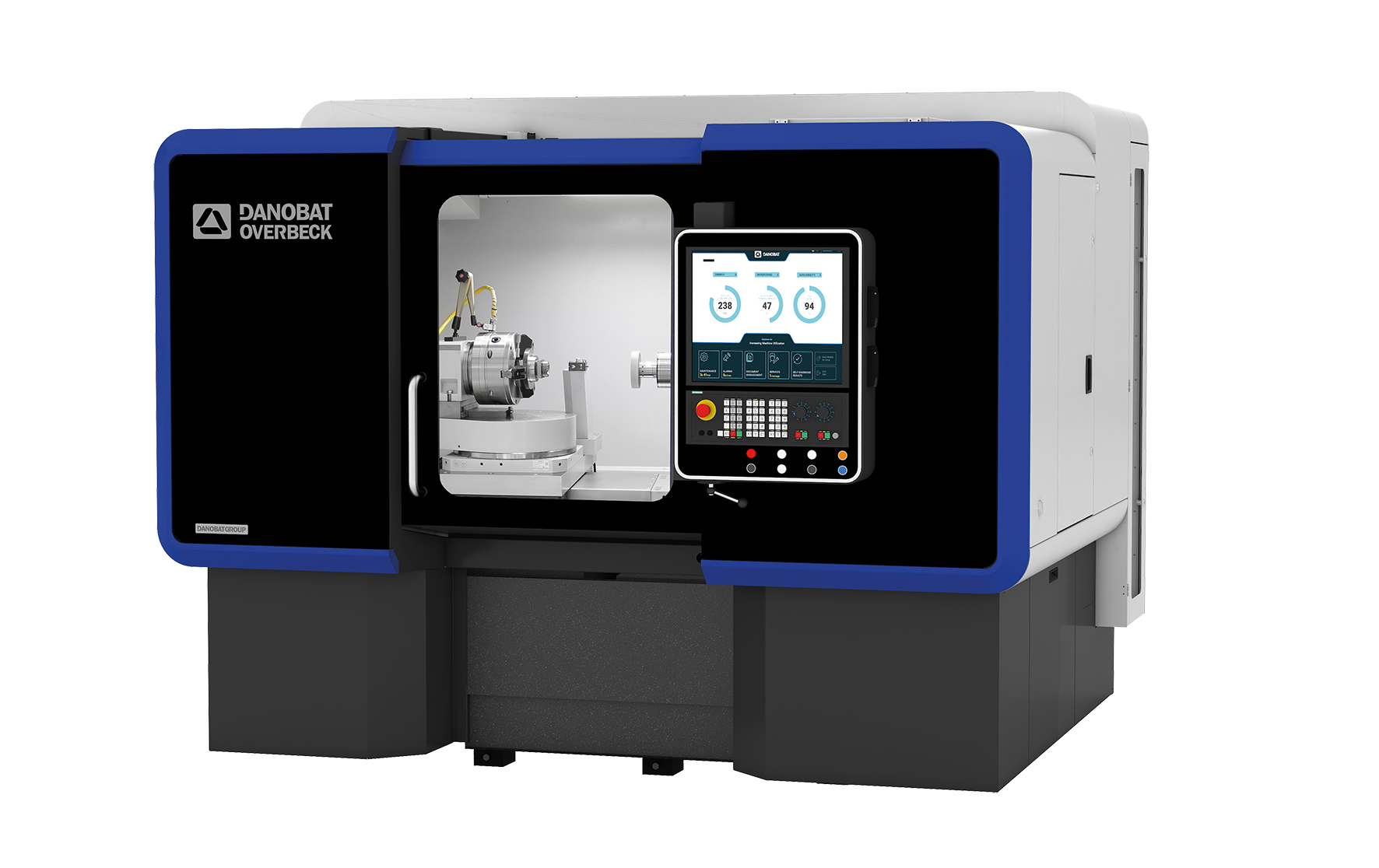 Added value
Danobat-Overbeck worked with Hyperion to develop this solution, providing a highly-qualified team of software engineers and experts who contributed their knowledge in developing the process and architecture of the grinding machine, a technology in which Danobat-Overbeck is a market leader with more than 10,000 references installed and an extensive international presence.
The partnership between the two firms has been of key importance in developing a project covering all stages of the process, from preliminary engineering through to design of maintenance strategies and post-sale support.
In order to ensure the required results, Danobat-Overbeck worked side by side with experts from Hyperion to meet their needs and ensure that the solution offers optimal operation throughout its entire useful service life.