DANOBATGROUP´s innovation manager key speaker at the High Level International Forum on innovation and sustainable development held at CIMT 2013 in Beijing
May 09, 2013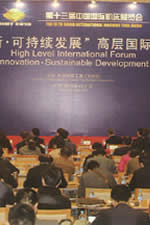 The high-level international forum on innovation and sustainable development has been the high-end supporting activity of
CIMT2013
, the 13th China International Machine Tool Show.
DANOBATGROUP
´s innovation manager Mr. Antxon Lopez Usoz, has been one of the main speakers of the forum together with key worldwide machine tool players such as Wu Bailin, President of CMTBA , and Thorsten Schmidt, Deputy Chairman of the Board of Gildemeister AG. The tendency to energy efficiency represents the beginning of a paradigm shift for the machine tool sector. For a long time, the machine tool industry has been driven by the motivation to provide the most productive, the most precise and the most reliable machines to customers. Competitiveness has been defined and determined by manufacturing excellence. In the last few years, to contribute to global efforts for tackling societal challenges, the machine tool sector has begun to invest in sustainable machinery. Design, optimizing energy consumption and reducing material waste can have a positive effect on life-cycle costs of machine tools. This represents a win-win situation for users and producers both and has a positive impact on the human factor in manufacturing. To ensure the future sustainability of its product portfolio, DANOBATGROUP is currently working on:
Improving the life cycle of the machine through the use of recyclable materials or cooling systems that minimize oil consumption.
Reducing power consumption by stopping the machine when it is not operating, or by recovering the power through the machine movements.
Cost savings by simulating machining processes or by integration of operations.
Improving the skills of workers through machine management and maintenance support, or by incorporating expert systems that help programming and maintenance of parts and increasingly complex systems.
DANOBATGROUP has a long track record of more than 20 years in the Chinese market, and has participated at the CIMT show exhibiting the
floor type milling-boring center SORALUCE FR-14000
, the worldwide patented
SORALUCE Modular quill spindle
, the
DANOBAT HG-91-3000 grinding machine
and the
DANOBAT TH-500 horizontal lathe
. All these machines incorporate the most advanced technologies and design.