Danobatgroup rewards research talent in the classroom
February 23, 2023
The industrial group has recognized an engineered solution project based on simulations, calculations, and overall drawings for a precision machine tool for oil and gas sector, developed by a group of students from the School of Engineering of the University of Navarra Tecnun
The 4 finalist teams presented their proposals to the jury on Tuesday at an event held at IDEKO Research Center
The awards are part of the Danobatgroup and Tecnun alliance to strengthen the link between the academic and professional spheres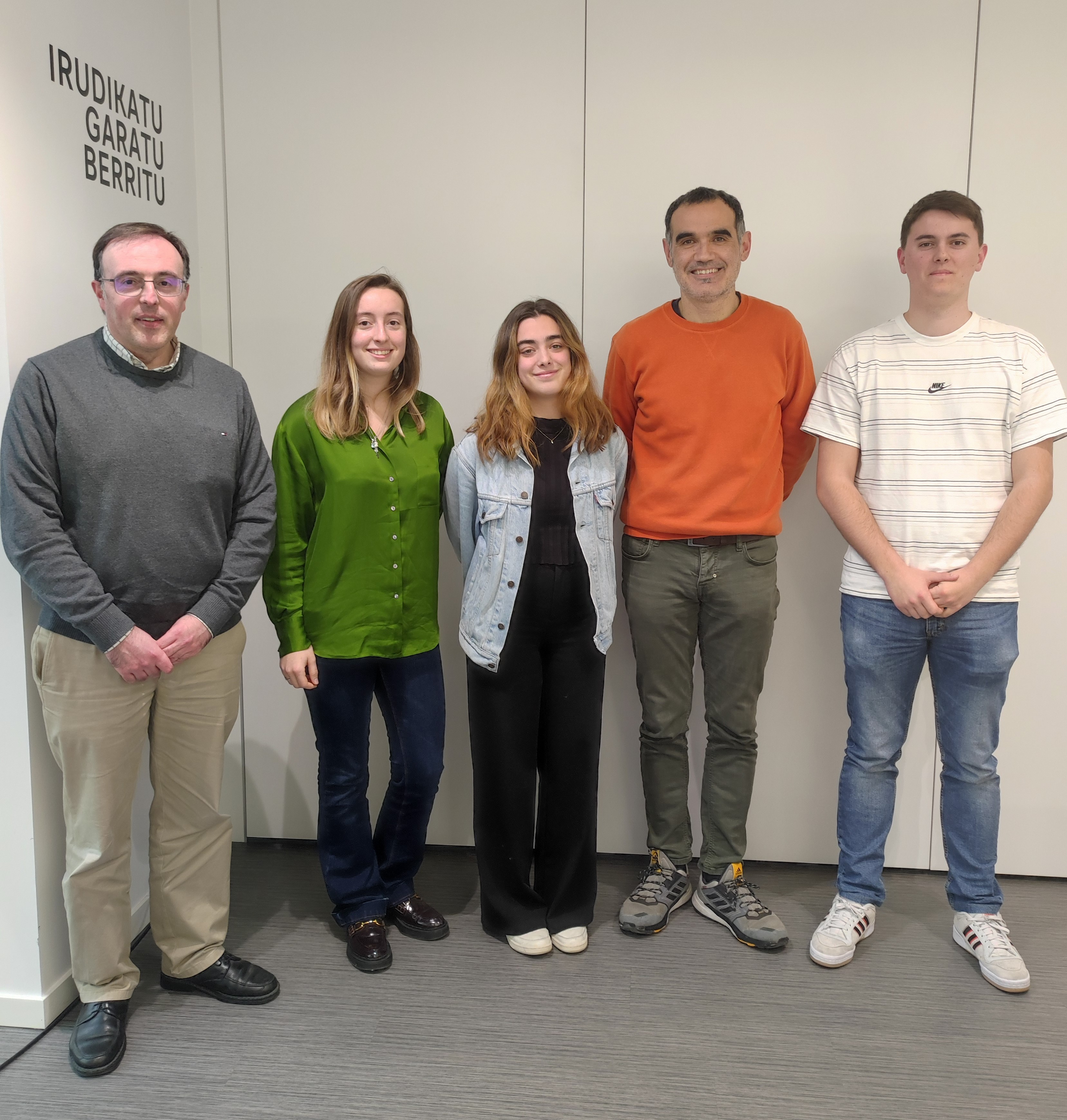 The industrial group has recognized an engineered solution project based on simulations, calculations, and overall drawings for a precision machine tool for oil and gas sector, developed by a group of students from the School of Engineering of the University of Navarra Tecnun
The 4 finalist teams presented their proposals to the jury on Tuesday at an event held at IDEKO Research Center
The awards are part of the Danobatgroup and Tecnun alliance to strengthen the link between the academic and professional spheres
Within its commitment to promote technological research and innovation in advanced manufacturing processes, the industrial group manufacturer of machine tools and advanced production solutions Danobatgroup has awarded a project on innovation applied to industrial manufacturing, developed by students of the Master of Industrial Engineering of the School of Engineering of the University of Navarra Tecnun.
The winners in this edition were Valeria Herráez, Borja Hidalgo and Alazne Sevilla. The award ceremony was held on Tuesday afternoon at IDEKO Research Center.
To be eligible for the award, the students had to organize themselves into work teams and develop a proposal to solve a technological problem posed by the industrial group. In this case, the participants had to find a turn-key solution based on precision machine tools and automated manufacturing processes for pipes' and couplings' turning and threading operations.
In order to start working on a proposal that would serve as a response to the challenge, the participants received prior training in which they acquired the theoretical and practical knowledge necessary to meet the task.
In total, 43 of students from the Master´s program participated in this edition, distributed in 10 groups. The 4 teams that made it to the final had the opportunity to defend their initiatives yesterday in IDEKO before a jury composed of Mikel Arizmendi, professor at Tecnun and Harkaitz Urreta, manager of the Precision Design and Engineering Research Group.
These awards are part of a collaboration agreement signed by Danobatgroup and Tecnun in December 2015 to promote the connection between the academic and professional spheres, fostering creativity, innovation and teamwork. One of the initiatives carried out by the industrial group to promote the development of new professional profiles capable of facing the challenges presented by digitalization in productive environments.
About Danobatgroup
With a track record of 65 years in the field of technologies applied to industrial manufacturing, Danobatgroup has a workforce made up of more than 1,400 highly qualified people. The group is an international benchmark in the machine-tool sector and technologies applied to industrial manufacturing.
About Tecnun
Tecnun-School of Engineering of the University of Navarra in San Sebastian contributes to the professional, scientific and human training of future engineers. Since its creation in 1961, it has maintained a balance between teaching, research and service to society, encouraging these activities to complement each other.