Tenaris trust in Danobat lathes once again
December 09, 2010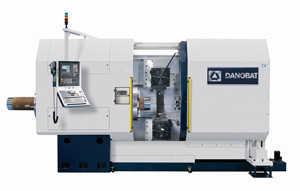 TENARIS and DANOBAT have signed once again another contract for supplying lathes for the facilities in Campana, Argentina. In this case, the contract covers the replacement of two old lathes for the latest high efficiency pipe threading lathes manufactured by Danobat. The lathes are being equipped with the latest technology in order to reinforce the PREMIUM finishing capability of the plant. Danobat is a leading global solution provider of OCTG pipe finishing and coupling manufacturing. Danobat is a single source supplier for the machine available with the following:
parts handling and / or automation
tooling and process development
The machine can be tailored to your production and budgetary requirements for medium and high production applications. Danobat is one of the largest machine tools manufacturers in Europe; as part of the machine tool division of the Mondragon Corporation, one of the most prestigious Spanish industrial holdings. The Mondragon Corporation has a workforce of nearly 100.000 people , and a turnover of more than 15 billion Euros.